Dear developpers,
I am using spark clusters (k8s) through the PyRDF module and I am encountering a really interesting issue that I think I never heard before…
As I said, I am using the PyRDF module (which is a wrapper of ROOT RDataFrames) and I tried to use the recently supported AsNumpy() method to transform a ROOT::RDataFrame into a dictionary of numpy arrays.
To mention it, the latter method AsNumpy() both for RDataFrames and PyRDF dataframes, locally AND on spark backend (see my following simplest example)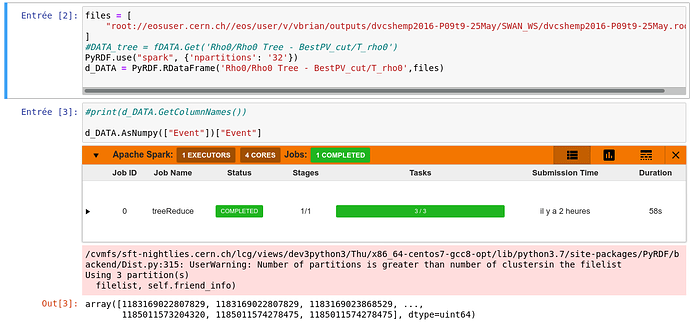 I am actually really happy of that recent update, so I tried to extend this to my actual analysis, with much more filters, but doing the same method at one point (following plot)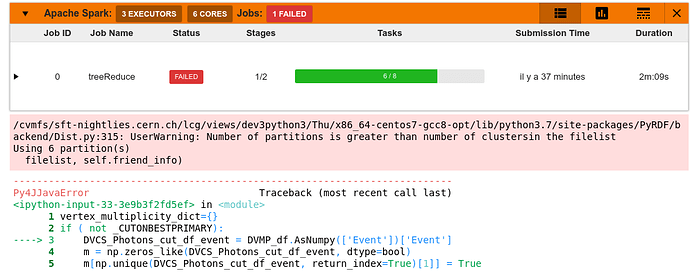 Weirdly, you see that some jobs succeed, but also some don't, making me then unhappy. And I honestly do not get why some work and why some don't, maybe the individual jobs worked but not the collector of the results, I don't know.
I would be glad to provide a simplest notebook example of this, but I am not sure I could easily do that. Can it be that my dataframe graph is too complicated / too long to run, and that jobs are crashing ?
I indeed remark that my notebook always take a lot of time to run because of a huge dataframe graph I have to admit…
Cheers,
Brian